How can we help your business?…
As a business leader, you want your company to run smoothly, professionally and reliably.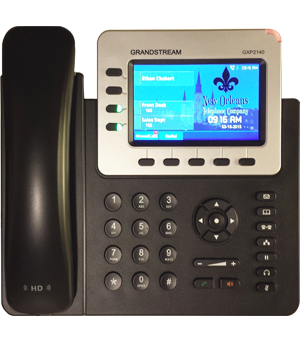 How do we help you get there?
New Orleans Telephone Company makes your business our priority. By offering an advanced telephone line and valuable continuous support, we will help you take the technical advantage over your competition…
probably with a much lower cost than you're currently paying!
As the premier business telephone service in the Greater New Orleans area, we will seamlessly integrate your business with our sophisticated VoIP technology, thus increasing your business efficiency, accessibility and flexibility of your communications while reducing your overall cost.
By implementing the Voice over IP technology into your business, you can enjoy this extensive list of practical and convenient features:
Flexibility: Make or receive calls from a desk phone or your cell phone
World-Wide Office: Conference in or transfer a phone call to any extension around the world
Auto-Attendant Options: Set up single or multiple auto-attendants to improve call routing
Voicemail Options: Set up individual employee voicemails for personalized mailboxes
Bluetooth: Use your cell phone or a wireless headset connected with Bluetooth
Web-Based Operator: View and control phone calls and conferences right on your computer screen
Business Continuity: Use your phone anywhere in the world that has an Internet connection
com Integration: Link to a client's profile on your computer as the call is coming in
That is just a short list of the most popular features that New Orleans Telephone Company offers through our advanced and affordable VoIP technology. Additional features include:
Find Me Feature
Time of Day Routing
Unified Messaging
Microsoft Outlook Integration
Client Portal
Ring Groups
Company Directory
Color Display
Professional On-Hold Music or Advertisement
…and more!
Why should you switch to VoIP technology as your business telephone line with New Orleans Telephone Company?
Reduce Costs
Ease of Use
Scalability
Flexibility
To add all of these features to your business telephone system, while reducing your overall cost, seems like an obvious solution. Call (504) 475-7025 today or click here to request a Free Demo!